Spooky season is upon us, and with it, the most difficult question of the year is: What Halloween costume should you buy for your pet?
Ok, so maybe it's not the MOST difficult question, but it's still an important one for those in the holiday spirit (get it? Spirit? Like a ghost?). Whether you need a cat Halloween costume or a dog Halloween costume, choosing Halloween costumes for pets can be tricky (get it? Tricky? Like TRICK-or-treating? We'll see ourselves out).
What to Wear (and What NOT to Wear)
People will dress their pets in just about anything they can come up with—and if they can't find it in a store, they make it themselves. But let's set the record straight, once and for all: Although there are an infinite number of Halloween costumes for pets, many of them are NOT actually practical (or safe) for your paw pal, and some can be downright offensive.
When choosing a Halloween costume for your pet, here are some things to consider;
Safety
You might be looking at this list and thinking to yourself, "Wow, this all seems super obvious," and you'd be right. These things should all be obvious to rational people, especially animal lovers. But let's be real—when it comes to holidays and celebrations, plenty of people leave rationality behind. It's an easy enough thing to do, and most of the time, it's harmless.
However, when it comes to involving animals in any holiday activity, safety should always come first.
If your pet is going to be out late for trick-or-treating—and therefore in the dark—a bright-colored or reflective costume is a great idea. This is especially true in neighborhoods with lots of young children, as darker costumes can make it harder to see your pet, and more likely to frighten a child. Avoiding scarier costumes (think those giant spider costumes that have become so popular) can also be a good idea for the same reason, as well as for the sake of not frightening your neighbors.
Additionally, the costume needs to be safe for your pet to actually wear. It should be made of animal-friendly and non-toxic materials, and should avoid things like dried salt dough or play dough, toxic paint, polyvinyl chloride (PVC), phthalates, and bisphenol A (BPA). Costumes with glass pieces or sharp edges should also be avoided, as well as anything that would be dangerous for your animal to chew on.
Mobility
Next, consider your pet's mobility needs. Will your pet be able to go to the bathroom? Is the costume too bulky for your pet to move around in? Can they breathe comfortably (again, safety is key here)? Will they be able to eat or drink?
Halloween costumes for pets should fit your pet snugly, but loosely enough that you can still insert two of your fingers between the fabric and the animal's back or stomach. In general, cats will struggle with complicated outfits more than dogs, as cats depend on their flexibility and speed to move around safely.
Comfort
Comfort goes hand-in-hand (or paw-in-paw) with safety and mobility. If you plan to take your pet outside, will they be warm enough in their costume? Will they run the risk of overheating? Does your pet hate wearing any kind of clothing, including boots or hats? How long will they be in the costume, and how easily can you dress or undress them?
Culture
Finally, make sure that your pet's Halloween costume is not offensive. We won't get too specific here—and frankly, we shouldn't have to—but dressing your pet in a "minority costume" is never a good choice. Additionally, avoid gore, as well as—and again, we really shouldn't have to say this—anything sexual.
Okay, now that we're all uncomfortable, let's get into the fun stuff!
Halloween Costume Ideas for Dogs
Whether you want Fido to look funny or fierce, there are plenty of great Halloween costume ideas to choose from. Here are our top recommendations for dog Halloween costumes;
Hotdog
A hotdog is a classic Halloween costume for dogs–especially small dogs. You're sure to get a laugh out of anyone who likes a good pun.
We like this particular rendition of the hotdog costume for two reasons: first, it's available in six different sizes (which makes it a good option for dogs and cats alike), and second because the "sauce" on the back lights up. You can keep your pet extra safe on Halloween night–and they'll look cute doing it.
Mailman
Ah yes, the enemy of every cartoon dog from the seventies-on: the Mailman. Even if your dog and your mailman are bff's, this nod to the classic "rivalry" is a lot of fun for Halloween.
We're suckers for any costume that makes an animal look like a person, but especially when the outfit makes them look like they're walking on two feet. There is a lot to love about this particular set, but perhaps the best feature is how easy it is to put on and take off. Plus, the back part of the costume is completely open, so your dog can still do their "business".
Dinosaur
Dinosaurs make great dog costume inspiration. There are so many different options to choose from, whether you're looking for a Doggosaurus or a Velocipupper, or even a Felinasaurus Rex.
It was hard for us to narrow our choices down, as there are just so many great dinosaur dog costumes out there, but eventually, this one won us over. Seeing a dog run straight at you in this costume is seriously the best thing we can imagine happening on Halloween. Plus, your dog can still use the bathroom while they wear it.
Horse
The key to this costume actually has very little to do with your dog's appearance, and everything to do with the costume itself. The ideal horse costume for a dog features an actual horseback rider—like a cowboy—and a saddle. The less your dog looks like a real horse, the funnier the costume becomes.
We love this costume for its simplicity—a harness that you can easily put on or remove. No hats, no shoes, just one lightweight piece that makes any dog look utterly hilarious.
Bee
We're not sure of the exact science behind this, but dogs look unbelievably adorable dressed as bees. It's the truth. Maybe it's the stripes, maybe it's the antenna, maybe it's the fact that dogs are just naturally adorable.
Do we love practical costumes? Yes. Do we lean more toward neutral designs? Yes. Is this bee costume one of the cutest things we've ever seen, despite being covered in lace and frills and oozing with femininity? Also yes. Listen, there are a lot of options out there for bee dog costumes, but this one stands out the most. If you're looking to spoil your pet this Halloween, this is the costume for you.
Lion
What's more fierce than a lion? A dog dressed in a lion costume, that's what! If you want to go for a more realistic/cool look, then a lion costume works best on a bigger dog. However, seeing a tiny teacup pup with a full-on lion's mane is always hilarious.
This lion costume is about as simple as it gets. It comes with an adjustable lion mane and a tail tip. If your dog dislikes harnesses but doesn't mind hats, this costume is a good contender—though they might not enjoy the tailpiece. Personally, we recommend not using the tail tip, especially if your dog likes to chew.
Jax, the Canine Executive Officer of PetLovers (CEO)
We couldn't resist adding this one to our list. Jax is classy, sassy, and a little bit gassy, and we wouldn't have him any other way. Best of all, a Jax-inspired costume can be nothing more than a bow tie. How's that for a Halloween treat?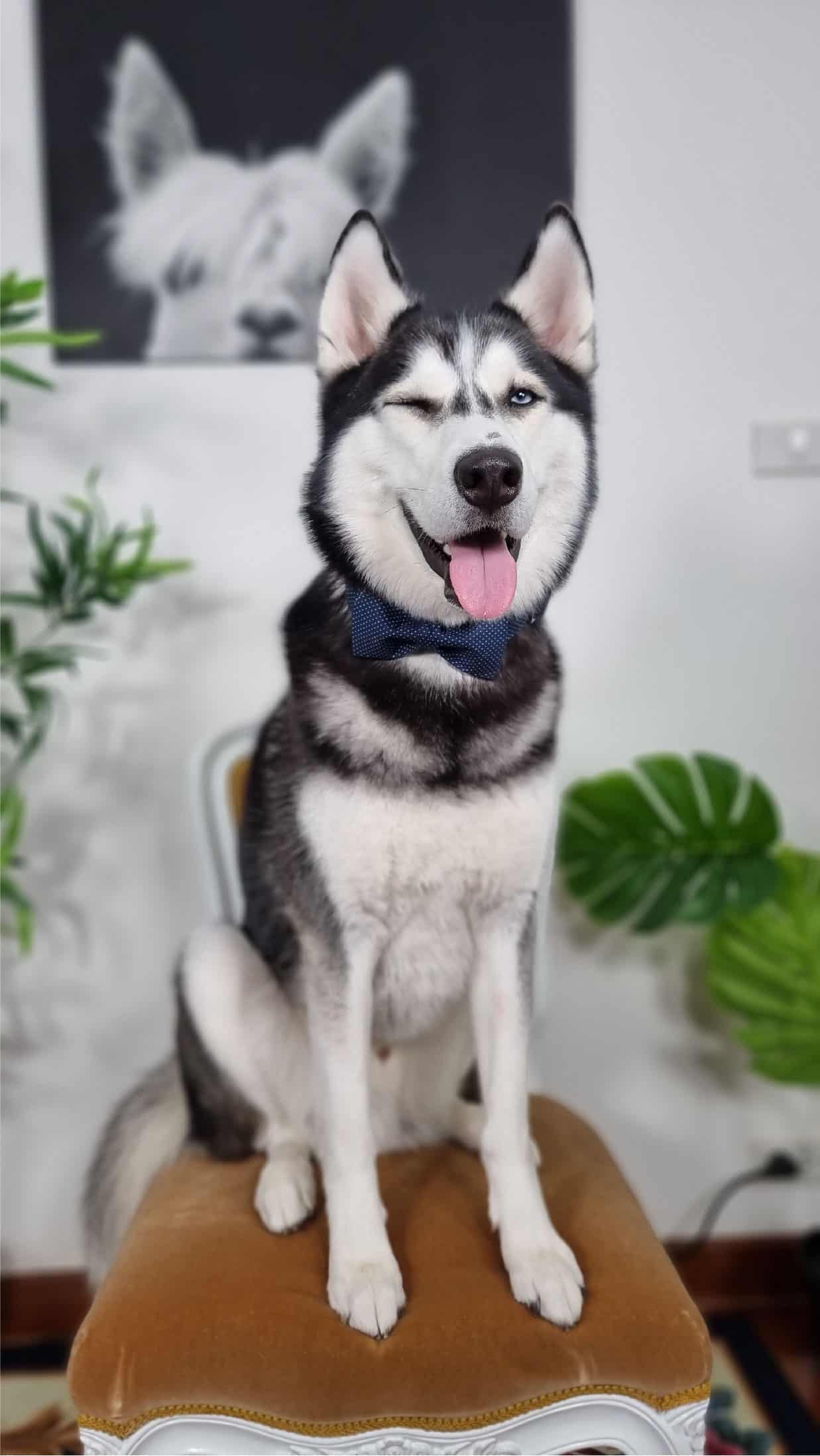 (For the record, if you do dress your dog as Jax for Halloween, please share with us!)
Halloween Costume Ideas for Cats
Some cats hate costumes. Some cats are indifferent. If you want to try putting clothes on your cat this year (the key word being 'try'), here are our top recommendations for cat Halloween costumes;
Pumpkin or Jack-o-Lantern
When you're buying a costume for a cat, the simpler the better. If it involves more than two pieces, we recommend steering clear. Hence the brilliance of a pumpkin or Jack-o-Lantern costume. Bonus points if your cat is orange!
Again, simple is the goal with cat Halloween costumes. We like this one because the face of the Jack-o-Lantern is the key feature: if your cat doesn't like the hood, you can just leave it down. It's also reflective, which is ideal in the event that your cat sprints outside while you greet trick-or-treaters.
Witch or Wizard
Witches and wizards are a staple of any good Halloween celebration. They're the purrfect combination of style and spook, and their look can be as simple as a pointy hat and a cloak.
This witch/wizard costume is simple and lightweight, and a great option for anyone looking to dress up their cat. Just don't be offended if the hat doesn't make it through the night—if nothing else, your cat will look ultra couture in their fancy cape!
Pirate
Much like cowboys, the idea of a pirate cat is very amusing. Would they have a pet parrot? Would they be looking for treasure or milk? Would they even need a sword or hook hands, or would their claws be enough? We may never know—but we can sure imagine with the help of a costume!
We stared at this costume for twenty minutes. Can you even imagine your cat running around the house like this? The fake arms, the hat, the way they look like they're walking on two legs—absolute purrfection.
Bat
This idea has become a go-to for owners of black cats—but any cute kitty can pull it off! Just make sure to keep your cat indoors, as the black fabric is nearly impossible to see in the dark.
Cat Halloween costumes don't get much easier than this. This simple and lightweight harness is a great option for finicky felines—just make sure they can still get around the house without getting stuck on or in something.
Matching Your Pet and Other Costume Ideas for Pets
If you really want to set your pet ahead of the rest, consider matching your costume with theirs! If your cat looks like a bat, dress yourself as a vampire. Or if your dog is digging the dinosaur look, put on a park ranger outfit (and jump in a Jeep, if you have one). Any iconic duo—from peanut butter and jelly to Scooby and Shaggy—can make a great "couples" costume for you and your furry friend.
Another great option for Halloween costumes for pets is to dress your pet as yourself—and if you really want to be the afterlife of the party, dress yourself up like your pet!
Finally, if your pet dislikes dress-up—but you still want to include them in the celebration—consider buying a Halloween-themed collar at your local pet store. You can also involve them in a themed craft, like pumpkin painting with their paws (and nontoxic paint). As long as everyone is safe and having fun, there's no wrong way to celebrate Halloween.
‍